Terry is an artist and sculptor living and working in Brisbane and has had a career in art spanning many decades.
Born in the UK emigrated to Australia in 1962 where he attended Seven Hills College of Art in Brisbane and then completed a Bachelor of Visual Art in Fine Arts at Griffith University at Southbank where he won the 1999 Griffith Award for Academic Excellence for studies in the Bachelor of Visual Arts in Fine Art. He has lectured in dozens of High Schools, TAFE's and at the Queensland College of Art.
He has received a number of high profile public art commissions in his career some of which are shown below.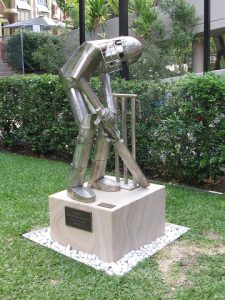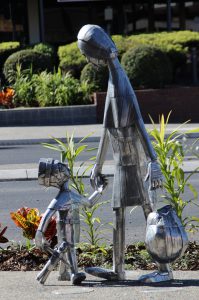 Awards include:
2016 Nundah Sculpture Prize  "Anticipation-00-BC" cardboard sculpture
2016 Nundah Contemporary Prize  "Moonflight" Pastel / collage
2015 Royal Qld. Art Society, Annual Exhibition sculpture award "Piper" cardboard sculpture
2015 Cathedral of St. Steven's Exhibition Sculpture Prize "Lamplight" cardboard sculpture
2015 Nundah Sculpture Prize "Flautist" cardboard sculpture
2013 Nundah Sculpture Prize " Harlequin from the Masquerade Series" cardboard sculpture
2011 Sculptors Society Qld. Kath & Len Shillam Prize "Wistful Warrior" cardboard sculpture
2003 National Gallery of Australia, Travelling Exhibition, Sydney "Waiting Room" People's Choice
Award
2003 National Gallery of Australia, Travelling Exhibition, Melbourne "Waiting Room" People's Choice
Award
2003 National Gallery of Australia, Canberra "Waiting Room" People's choice Award cardboard
sculpture
2001 Churchie Emerging Art Prize "Monochrome Chairs"